Baked Sweet Potato Balls for Baby – The Homemade Baby Food Recipes Blog
Don't you just love recipes that need hardly any ingredients, but taste amazing?
These Cheesy Sweet Potato Balls really fit the bill – they are so quick and easy to make they're virtually foolproof, but they are packed with flavour.
They have a delicately crisp texture on the outside, but are lovely and soft on the inside – just perfect for little ones who are happy feeding themselves and those doing baby-led weaning!
And the great thing about this recipe is that the balls are tasty enough to be enjoyed by the whole family, served as a side dish with the main meal.
Your Baby Will Love These Sweet Potato Balls – and So Will You!
Ideal for babies from at least 6 months of age, these balls are highly nutritious!
Sweet potato provides your baby with plenty of beta-carotene, plus lots of other vitamins and minerals. The addition of cheese brings some calcium to the dish, making these balls a satisfying treat with a flavour your baby will adore!
Handy Tip!
The recipe calls for cooked sweet potato. We always like to cook a few sweet potatoes ahead of time and store them in the freezer, to use in recipes just like this!
The easiest way to batch cook sweet potatoes is to bake them in the oven in their skins (just remember to pierce the skin first).
How long it takes will depend on the size of the sweet potato – small potatoes will often be soft and ready to eat in as little as 45 minutes, whereas large ones can take a couple of hours.
You can either split the cooked potatoes and scoop their flesh into freezer-safe bags or containers, or you can keep things super simple and freeze them right in their skins! Then you'll always have cooked sweet potato on hand, whenever you need it!
This recipe makes 10 balls.
To Make Baked Sweet Potato Balls for Baby You Will Need
1 cup cooked sweet potato
4 tablespoons grated Cheddar cheese
2 tablespoons grated Parmesan cheese
1 cup panko*
*If you can't get hold of panko, try using crushed cornflakes – they make a great alternative!
Preheat the oven to 400 deg F.
Spray a baking sheet with oil.
Mash the cooked sweet potato together with the grated Cheddar cheese.
In a separate shallow dish, mix the panko with the grated Parmesan.
Using your hands, roll the mixture into 10 small balls.
Roll each ball in the panko mixture until as well coated as possible – pressing it gently into the potato to help it to stick – and place each ball on the baking sheet.
Spray the balls lightly with cooking oil and place in the oven.
Cook for around 20 minutes – turning the tray halfway through the cooking time – until the balls are a pale gold colour.
Cool to a safe handling temperature and serve.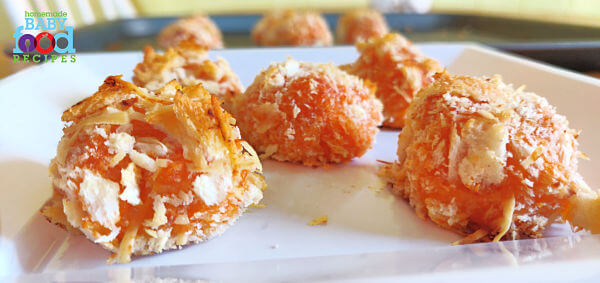 Variations:
The cheese adds plenty of flavour to these balls, but if you want to add even more pizzaz, try mixing a little garlic powder and/or freshly chopped herbs into the sweet potato.
Learn more about offering cheese to your baby