Homemade Blueberry Popsicles for Baby – The Homemade Baby Food Recipes Blog
This recipe for Homemade Blueberry Popsicles for baby is full of natural antioxidants, tastes wonderful and makes a lovely cooling treat on a hot day!
If you've not yet introduced blueberries to your baby, you can find out more about them here.
In addition to fresh blueberries, this recipe uses blueberry juice. Blueberry juice is now available in many supermarkets, particularly in the US, but if you can't find it, then you can substitute any berry juice that your baby enjoys.
Please note, though, that – although blueberries are not commonly allergenic – some berries do provoke allergic reactions during the first year.
So you may wish to wait until the end of your baby's first year to make these popsicles for him if you use any other berry than blueberries in the recipe.
How to make popsicles without a mold
This recipe calls for popsicle molds, but don't worry if you don't have any!
Any plastic cup or tumbler makes a great alternative and small, empty yogurt pots are ideal! If you don't have popsicle sticks you can use a baby spoon instead, inserting it once the mixture is semi-frozen.
If you don't have any plastic cups either, another option is to use the holes in a muffin tin, again inserting the stick/spoon once the mixture is half frozen so that it stands up.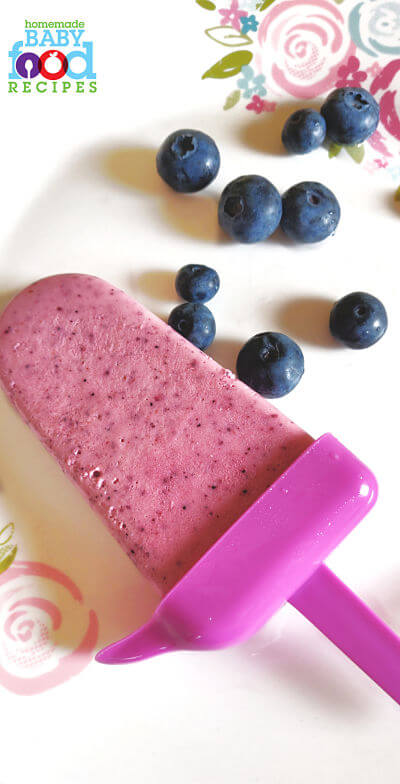 To Make Homemade Blueberry Popsicles for Baby You Will Need…
1/2 cup blueberry juice
1 envelope gelatin (unflavoured)
1 cup vanilla yogurt (or use natural yogurt and add a little vanilla essence)
1 cup fresh blueberries (or alternative berry of your choice, noting the warning above)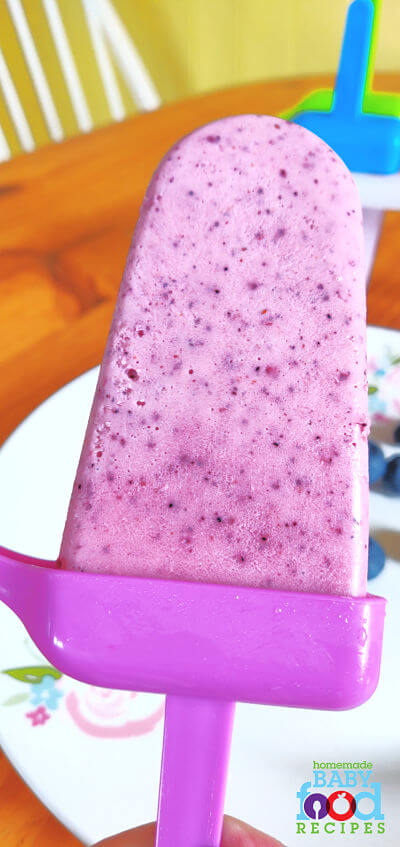 Warm the blueberry juice in a small saucepan and stir in the gelatin.
Continue to stir until the gelatin has completely dissolved, then pour the mixture into a food processor and add the yogurt and blueberries.
Blend until completely smooth.
Pour the mixture into popsicle (lolly) moulds and freeze.
If your baby is too young to handle a popsicle (also known as a lolly in the UK), you could use this recipe but then pop the finished result into a mesh feeder.
Click here to learn more about mesh feeders – they are a great way to help soothe teething pain too!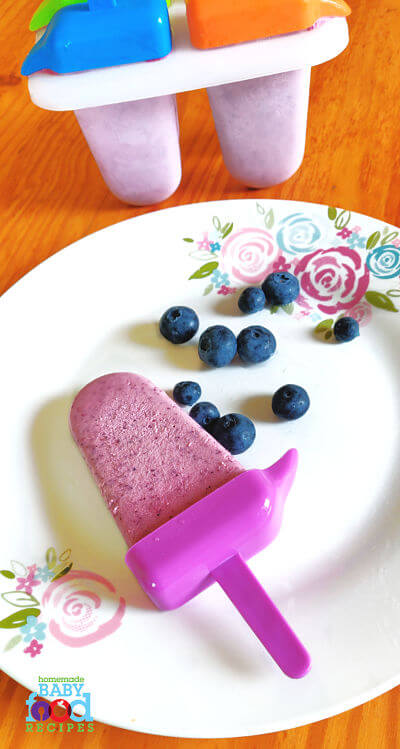 More cool baby treats for hot days
Dairy-free, sugar-free ice cream