Latest posts by Jodie Chiffey
(see all)
If for any reason purely breastfeeding your baby is currently not possible, your only viable alternative is formula. The good news is that these products nowadays boast wonderful quality, so you can rest assured that your baby is getting all the important nutrients he or she needs. But finding the one that suits your little one the best often proves to be quite a lengthy and complicated process – especially when factors like allergies, colics, and reflux come into play. Nutramigen vs Alimentum, which we compare in this article, are considered to be some of the best hypoallergenic products you can currently find on the market today. While both are high-quality products with many good features, mothers often do prefer one or the other. Today we'll discuss these differences in detail, so that you can make an informed decision without having to go down the tiring trial-and-error road. After we compare all the important features and specifications, we'll also suggest the product we consider to be the best. Of course, our main goal is to provide you with all the facts you need to make your own decision. So let's begin!
With TheBabySwag SHOP, you can easily add products to your cart and checkout in-article. Click "Shop Now" and follow the popup instructions. That's all! As you read you can add more products to your cart.
Main Differences Between Nutramigen vs Alimentum 
The main differences between Nutramigen vs Alimentum are:
Nutramigen contains corn syrup in both powder and ready-to-feed versions, whereas Alimentum ready-to-feed is corn-free.
Nutramigen comes in three age-adapted versions, whereas Alimentum comes in one version for all.
Nutramigen is slightly more expensive, whereas Alimentum is a bit cheaper.
Nutramigen contains palm olein, whereas Alimentum doesn't.
Nutramigen vs Alimentum – Which is Better for your Child? 
Finding a good formula is a much more complex issue than many people might think. Of course, formula is essentially a baby food, so its the main purpose is to keep your baby's stomach full and provide him or her with all the important vitamins and nutrients. However, in practice, a good (or wisely chosen) formula can make a great difference in so many aspects of your baby's life, that it seems to be much more than just a "food". If you make a wrong choice, you might end up stuck with a whining, constantly unhappy and badly sleeping newborn, which is literally every parent's worst nightmare. So, how to make sure your choice is good? Well, different moms have different babies with different tastes. Sometimes you cannot really tell if some product will suit you and your little one, until you give it a try. Fortunately, there are also many objective factors and differences in play, that can and should be considered. That's why we are now going to review both Nutramigen and Alimentum formulas in detail. And since both of these products are especially suitable for babies who are prone to suffer from reflux, colic, uncomfortable gasses or have various allergies, we will focus mainly on the features that are significant for this target group.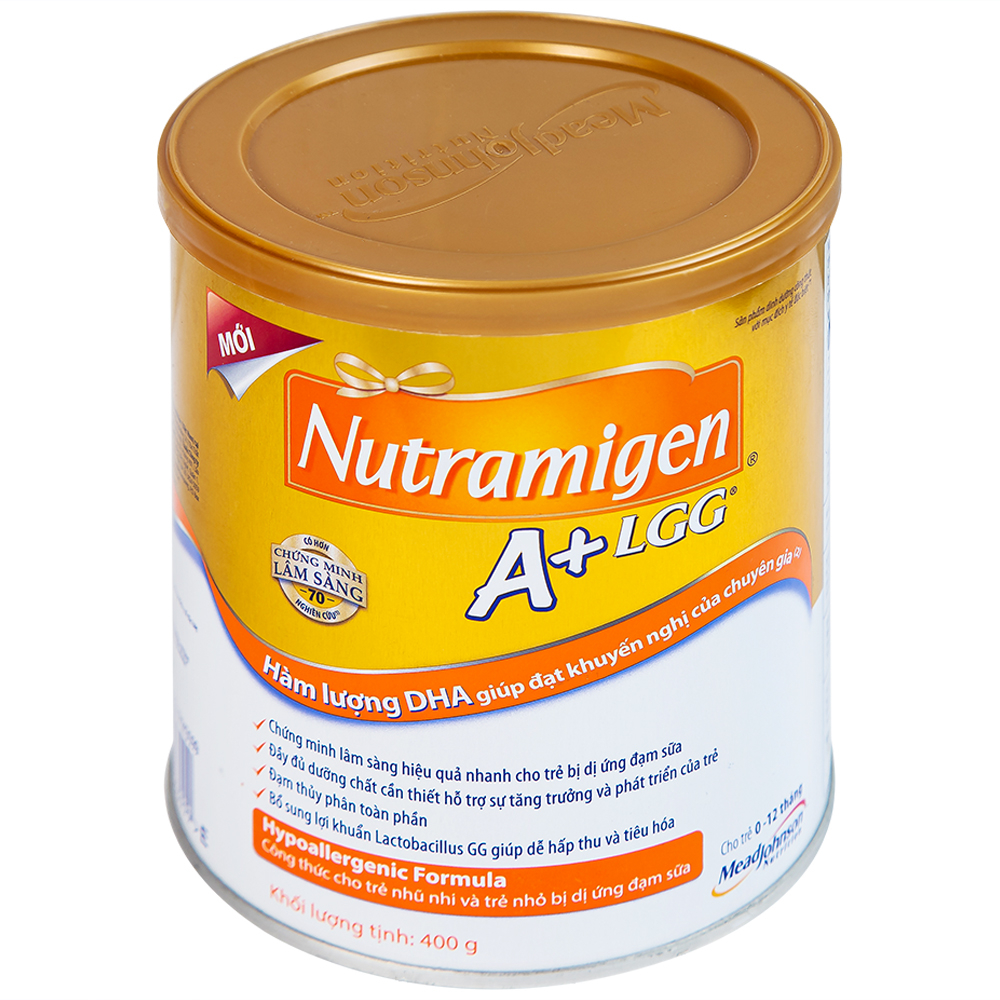 Nutramigen is a hypoallergenic formula made by Mead Johnson Nutrition company. You can also recognize it by the brand name Enfamil. Being the very first formula for the management of cow's milk allergy, it's quite probable that many of today's moms were actually fed with Nutramigen as babies too. Nutramigen is a highly sophisticated and scientifically proven product designed for the most vulnerable babies, who suffer from various digestive problems. Most mums give it a shot only once they are running out of other ideas on how to resolve their baby's issues, or based on their pediatrician's advice. Indicated problems include irritation after feeding, irregular and hard stool accompanied with general discontent, excessive gasses, painful colics or reflux. Although these troubles can have various reasons, quite often they have something to do with lactose intolerance. In fact, statistics suggest that 65% of the human population has some form of lactose intolerance, and with babies, this number can be even higher. But don't worry about that too much – most of the kids will grow out of it and show little to no signs of lactose intolerance in their adult life. Nutramigen fights this problem on two different levels, in the form of two separate products with slightly different indications. The first one contains a unique probiotic formula patented asEnflora LGG – which stands for a friendly bacteria Lactobacillus rhamnosus GG. It's an extensively hydrolysed formula recommended for babies with mild to moderate cow's milk allergy. On many markets, Nutramigen LGG is available in three age-adapted versions:
Nutramigen 1 with LGG®: comprehensive nutrition from birth to 6 months of age
Nutramigen 2 with LGG®: for infants from 6 months onwards as part of a varied diet
Nutramigen 3 with LGG®: for children from 1 year onwards as part of a varied diet
Depending on where you're buying your formula, you can also find Nutramigen in "Baby" and "Toddler" versions, or a single product for all. All of these formulas also contain many important ingredients, such as DHA, vitamins K, B, E and others. Nutramigen PURAMINO (you may find it on some markets simply as PURAMINO) is the best choice for babies with severe cow's milk allergies and/or multiple food allergies. PURAMINO breaks proteins into even smaller particles, which are easily digested even by the most sensitive babies. Another difference is that this formula is designed on the basis of amino acids.
And how does Nutramigen work in practice?
The first thing you should definitely know before you open your first can of (any) hypoallergenic formula is that it smells DIFFERENTLY (or awful, as some mums prefer to describe it – and I can't really blame them). But this is not only Nutramigen's problem – it applies to Alimentum too, as we'll discuss later. But if you're able to cope with this bummer, you will most likely see the improvement in your baby's state very quickly. Most moms claim the digestive issues improved in less than 48 hours after the first dose, and many little ones are completely symptoms-free in about 4 weeks. They are calmer, sleep better, have smooth and regular poop, and develop nicely in every aspect. And that's the goal, isn't it?
Nutramigen features:
Hypoallergenic formula created for babies suffering from lactose intolerance.
Nutramigen doesn't contain sucrose (table sugar), which can be found in some other formulas
It can also be used continuously as a substitute for cow's milk.
Nutramigen PURAMINO is suitable for halal and kosher diets too.
Nutramigen LGG contains friendly bacteria Lactobacillus rhamnosus which prevents the growth of harmful bacteria in the stomach and intestine.
It comes in different age-adapted versions.
It's available as a powder in can and in ready-to-feed bottles.
Uncomfortable symptoms should start to diminish in 48 hours and cease completely in about one month of regular use.
Pros:
It comes in age-adapted versions.
There's an alternative for more severe problems (PURAMINO).
It works quickly (usually in just 2 days).
It's lactose-free + gluten-free and full of nutrients.
Cons:
Parents complain about the odd smell of the formula.
It's quite expensive – even a bit pricier than Alimentum.
It contains corn-related ingredients and palm oil.
Has it Been Recalled?
The Nutramigen formula hasn't been recalled since 2001, but since then, the formula has changed and improved a lot.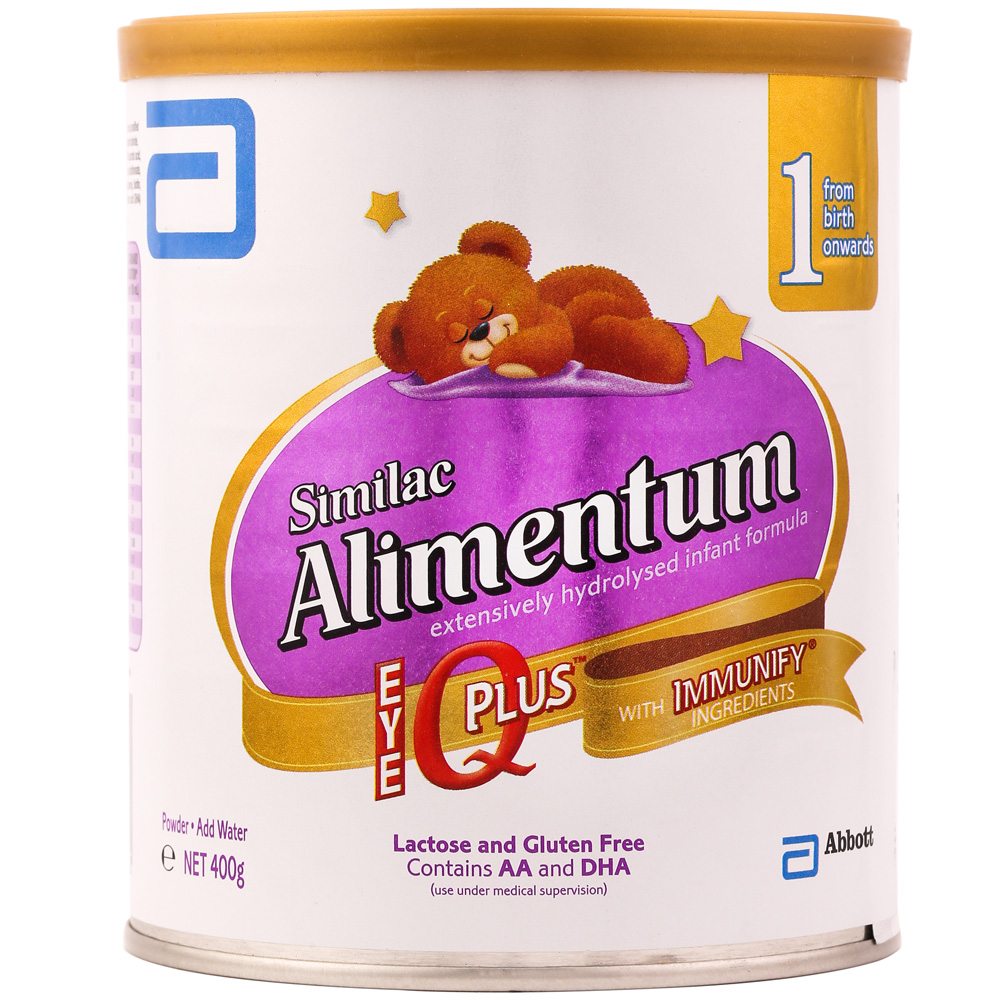 Alimentum is a hypoallergenic formula produced under the brand name Similac, which is a part of the Abbott Nutrition company founded in 1888. Alimentum is also designed principally for babies who suffer from common digestive problems such as colic, painful gasses, reflux, etc., which are mainly associated with lactose intolerance. However, these are not the only reasons why you could find this product attractive. Alimentum contains a wide range of precious nutrients, which can help your baby develop into the healthy and happy kid you want him or her to be. Among many others, it contains DHA – an omega-3 fatty acid called Docosahexaenoic acid, which is the primary structural component of the human brain and can be found in maternal milk too. Then there's also lutein, great for the baby's eyes, and Vitamin E, which is very important especially for preterm babies. There's also an addition of iron, which is recommended as a supplement even for exclusively breastfed babies. On the contrary, you wouldn't find any artificial growth hormones or palm olein in it, and there's also a corn-free alternative available, which makes this formula suitable for an even wider range of indications and intolerances. Absence of these ingredients should also result in smoother and more regular stool, so it's a win-win for everyone. Just like Nutramigen, Alimentum also promises quick and effective relief from the symptoms of digestive discomfort and pain. In fact, it can help your baby feel better in just 24 hours, but stay calm if it takes a little longer in your case. The effect will surely show shortly. Again, though using its own weapons and methods, this specialized formula also works by breaking down the proteins for your baby, so that he or she can digest them more easily. This is a so-called "pre-digested nutrition", which spares a sensitive tummy from the hardest work. Just like with Nutramigen, prepare to face the specific smell and taste, which makes adjusting to these antiallergenic formulas a bit difficult. They say it's only a matter of getting used to it, but in practice, some babies (or parents) simply won't get over it at all. It might be especially challenging for babies, who already got used to the sweet taste and smell of maternal milk or regular formulas. Based on my personal experience, I suggest not giving up for at least a full week. It usually resolves in a few days, and the benefits outweigh these weaker points greatly. I also highly recommend trying out Alimentum ready-to-feed bottles. Yes, it's a little bit more expensive option, but it smells and tastes much better, saves you a lot of time and energy, and you can even avoid corn starch this way since this product is corn-free.
Features:
Hypoallergenic formula is great for babies who should avoid lactose and/or soy.
It contains DHA, lutein, Vitamin E, and many other important nutrients.
There's also an addition of iron.
It doesn't contain palm oil and has corn-free alternative.
This formula is free from any artificial growth hormones.
Alimentum comes as a powder (in different can sizes), and it is also available as a "ready-to-feed".
Complete nutrition for babies up to 12 months in a single product.
Pros:
It has a corn-free alternative and doesn't contain any palm olein.
Rich variety of nutrients that are good for healthy development.
It's often available as great value-packages. It's also a bit cheaper than Nutramigen.
Alimentum is recommended by many pediatricians around the country.
Cons:
Again, some parents complain about the bad smell of this product. Our tip: Ready-to-feed version of Alimentum smells much better 🙂
It comes only in one version for all babies from 0 to 12 months.
Just like Nutramigen, Alimentum isn't the cheapest formula out there.
Has it Been Recalled?
Yes. The Similac Alimentum baby formula has been recalled in 2006 due to a lack of upper layer in the cap, which allows air to enter the bottle and to decrease the vitamin C in the bottles.
Are There Any Alternatives?
If you want to try some other formulas for sensitive tummies, we highly recommend these two:
Gerber Good Start GentlePro Non-GMO Powder Infant

Formula
During the formula shortage, I find that Gerber Good Start GentlePro is a lot easier to find than other types of formula. Maybe other parents aren't aware of the goodness that's in Gerber formulas. I love all that's available in the Gerber Good Start GentlePro formula. You can find DHAs, prebiotics, and probiotics. All of that goodness found in breastmilk? Yup, you can find it in this formula too. 
When I switched my baby to this (he was formally on Similac Sensitive), I noticed such a big change in his pooping. He began to poop frequently, had fewer problems with gas, and we didn't have any problems with constipation. I would only recommend this as an alternative if your baby doesn't have a cow's milk allergy. If your baby is fassy or fussy because of lactose (and that's why they're on sensitive formulas) this formula was created to help reduce gas/fussiness. Again, I would recommend you always stick with sensitive formulas. But, this will work in a pinch! And I'm finding it's so much easier to find compared to other formulas during this shortage!
Has the Gerber Good Start GentlePro Non-GMO Formula Been Recalled? 
No, this formula hasn't been recalled.
Enfamil ProSobee 
If your baby should avoid dairy+lactose completely, Enfamil ProSobee is a soy-based formula completely free from these ingredients. But don't worry – there's still plenty of nutrients in this formula, including DHA or Choline, which is essential for brain development, good for a healthy heart and metabolism. Enfamil ProSobee is suitable for babies from birth up to 12 months of age. Its main ingredient is plant-sourced protein from soy, which is praised for various health benefits. As a parent of a baby with colics or problematic stool, you will surely appreciate its soothing effect on your little one's digestive system.
Has This Product Been Recalled?
There are no recent recalls for this formula, however, the company has issued a few recalls for their similar formulas which was due to potential insect contamination.
Enfamil ProSorbee | Amazon
Enfamil ProSobee baby formula powder is a complete lactose and dairy-free, soy formula alternative to milk-based baby formula.
Buy it on Amazon
We earn a commission if you click this link and make a purchase at no additional cost to you.
Read our list of recommended non-dairy formulas, where we also discuss Enfamil ProSobee in more detail.
The Verdict: Nutramigen vs Alimentum
Both Nutramigen and Alimentum are surely great quality products that can be of priceless help to families who struggle with digestive problems of their little ones. Despite any measurable differences in their ingredients and other features, some of us will simply find one of the more effective or comfortable than the other. Therefore, I would like to avoid ending this comparison with a simplistic "good vs bad" verdict. However, if I had to choose my personal favorite, I would suggest trying
Alimentum
first. My reasons for this recommendation are related rather to various secondary aspects than the general effectiveness of these products (which is great on both fronts!). What I personally love about Alimentum is its nicely balanced mixture of ingredients and the fact that it doesn't contain corn and palm olein, which I try to avoid in my own diet too. Another feature I prefer is its slightly thinner texture, which makes it easier to manipulate with this formula (and my baby seems to like it better too). The price of Alimentum is also slightly lower. Although the difference per ounce is quite small, imagine the amounts of formula you're going to need in the next few months. Remember that once your little one finally gets used to the new formula, it's not that easy to switch to another. You might want to make the nutrition as affordable and accessible as possible from the very beginning. Once again, I must get back to the formula's smell and taste. The fact is that Nutramigen and Alimentum both smell somewhat odd, BUT I still believe that Alimentum smells a bit better. If your budget can bear some additional expenses, you should definitely try the ready-to-feed version, which smells quite nicely and it's also very useful when you need to save some precious time and energy (note: one bottle includes about 6-8 doses).
FAQs
Question: Are hypoallergenic formulas more expensive?
Answer: Yes, these products can be significantly more expensive than regular formulas. However, your insurance can cover these costs, if your pediatrician prescribes the formula.
Question: How long will it take until Nutramigen/Alimentum helps my baby feel better?
Answer: Both of these highly specialized products should show their effect very quickly. Alimentum claims to be effective in 24 hours, Nutramigen in 48 hours. Long-lasting effects should be expected after several weeks of regular use.
Question: Will my baby always be dependent on lactose-free products after feeding on hypoallergenic formulas?
Answer: Most probably not. Many kids who suffer from lactose intolerance will eventually grow out of it, and hypoallergenic formulas are not going to have any bad effect on this. In fact, they help sensitive tummies get used to complex proteins gradually, which supports their healthy development.
Question: How do I know if my baby needs a hypoallergenic formula?
Answer: Allergies and intolerances usually show up very soon. Some of the common symptoms include fussiness, painful/blocked gasses, irregular or abnormal stool, excessive vomiting, and colics. These are all legitimate reasons to try special hypoallergenic formulas like Nutramigen or Alimentum.
Final Thoughts 
Now that you've read through our whole Nutramigen vs Alimentum comparison, we hope you've been able to get an idea which of these hypoallergenic formulas might be better for you and your little one. As we've tried to emphasize repeatedly throughout the article, finding the right formula often takes some time and effort – and the final decision will still be your baby's. Take this process one step at a time, and try to observe your baby's reaction to every dietary change thoroughly and objectively.